North Platte Canteen Festival
The 2023 North Platte Canteen Festival will be held on September 23rd & 24th in the Historic Canteen District!
On December 17, 1941, North Platte residents gathered at the Union Pacific Depot because they heard that a troop train carrying their own boys would be coming through. When the train stopped, none of their boys were to be found, but instead there were soldiers from Kansas. After a moment of disbelief, one person stepped forward and gave their presents to the troops and everyone else soon followed. The happiness expressed by the soldiers sparked an idea. The residents of North Platte and the surrounding communities followed the lead of their ancestors in World War I by opening a Canteen at the depot. This endeavor lasted for 54 months, involved 55,000 volunteers, and served more than 6 million service men and women during its duration. This was one of the largest volunteer efforts of World War II. When an impact like that has been made, it is important to keep that story and heritage alive.
Visit North Platte, the Downtown Association, the Lincoln Country Historical Museum, and the North Platte Community Playhouse are pleased to be bringing back the North Platte Canteen Festival for a third year!
There will be a Fall Market & Art Show taking place in the Canteen District on Saturday, September 23rd from 10:00am-4:00pm. Here you will be able to explore a variety of high-quality art, crafts, and food vendors. This event is free and open to the public!
During the Fall Market & Art Show the Flatrock Irregulars will be playing 1940's hits live from 10:00am-12:00pm and Jody Engalls from Encore History will be performing from 12:00pm-4:00pm. Enjoy the performances while you shop, or bring a law chair and stay a while! This event is free and open to the public. Jody Ingalls from Encore History will take attendees on an unforgettable journey through the WWII years through iconic songs of the day performed in character by some of the era's favorite voices! Come watch this amazing one-woman show that combines multiple characters, costume, and song to tell the story of an era.
To finish up the festival, 'A Sentimental Musical Journey' will will be performed at the North Platte Community Playhouse in the Canteen Room on Sunday, September 24th at 2:00pm. This show will take you through the music of the World War II era, celebrating a mistake which turned into one of history's largest wartime volunteer efforts: The North Platte Canteen. Come get "In the Mood" with North Platte's own Glenn Miller style big band and vocalists who will "Sing, Sing, Sing." We would like to invite everyone to experience the magic of the WWII Canteen at this exciting event. Advance tickets can be purchased here!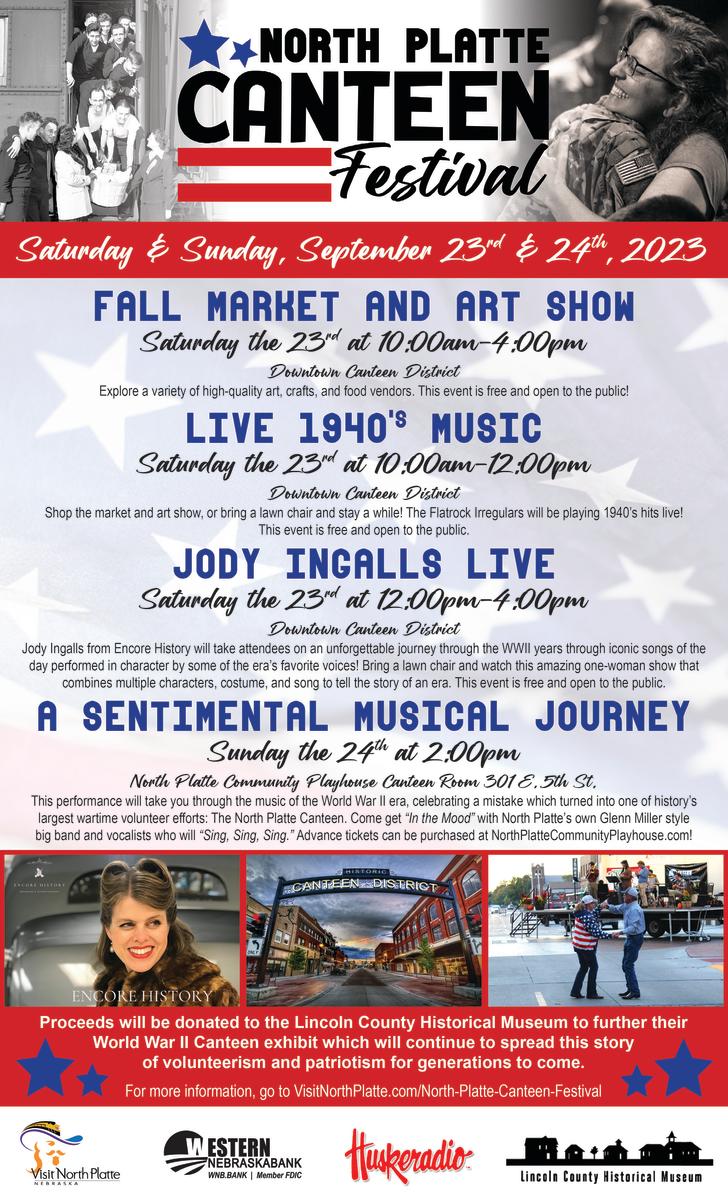 Proceeds will be donated to the Lincoln County Historical Museum to further their World War II Canteen exhibit which will continue to spread this story of volunteerism and patriotism for generations to come.